Meet our Church Staff…

Kevin Madden, Senior Pastor
As the primary teaching pastor, Pastor Kevin has a passion for faithfully communicating the truths of Scripture. He and his wife, Alicia, have two sons. Kevin & Alicia served as church planting missionaries in Canada for 14 years and Kevin has now returned to his hometown of Washington, GA where he has served as pastor since January of 2011. Kevin received his M.Div degree from Southwestern Baptist Theological Seminary and is currently working on his DMin
from New Orleans Baptist Theological Seminary.
Scott Yaikow, Youth Pastor
Pastor Scott leads our youth ministry and also serves as associate pastor. Scott and his wife, Amy, have three children. Scott began his ministry at First Baptist in October of 2014, and he and Amy are very excited to invest their lives in students here in Washington. Scott received his M.Div degree from Tennessee Temple Baptist Seminary and is currently working on his DMin from Luther Rice Seminary.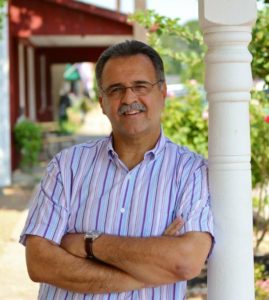 Walt Brown, Minister of Music
We welcomed Walt Brown to the pastoral staff in July of 2017. He and his wife, Gayla, have three adult sons and three grandchildren. Walt has been involved in music ministry for nearly 35 years and has served in churches in Florida, Georgia & Texas.
Traci Steward, Lead Ministry Assistant
Traci began serving as our Lead Ministry Assistant in 2014. Her role includes managing the church office and the church's finances. Traci and her husband, Joe, have two children and they are very active members at Beulah Baptist Church near their home.
Tammy Echols, Ministry Assistant
Tammy serves three days each week as Ministry Assistant and has been on staff at FBC since 1997. She and her husband, Ben, have two children.